I love being underwater, being submerged in a totally different world where each breath matters and you can hear it loudly in your head, where all movements is suspended in slower motion and the body feels light. Underwater, life is different. Some people love to be a bird and see the world from that perspective, which is nice but to be able to live underwater, is a dream come true for me--Plants, animals and people living together in harmony moving with the flow of the ocean, swaying back and forth.
In my world, the plant and fabric structures are offering oxygen to the human mermaids underwater, so you never have to come to the surface again and you can be part of a miraculous unfolding of color, sounds and movement. I imagine this as a performance with projections of light and color, moving objects and people that dance and flow in magical ways.
This project was developed with Daniel Mccullock and we are working on creating a performance or experience for visitors underwater.
UNDERWATER Sculpture Garden Project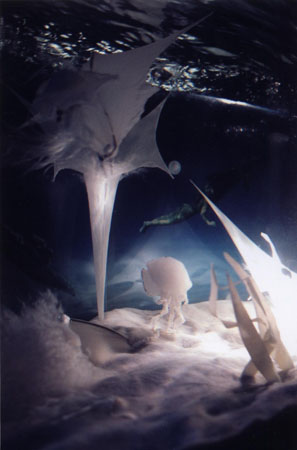 UNDERWATER Sculpture Garden Project
UNDERWATER Sculpture Garden Project
UNDERWATER Sculpture Garden Project